eMAR for Assisted Living, Group Homes and IDD
Reduce medication errors with safer med passing and enhanced oversight
Improve med-passing workflows with the industry's leading electronic medication administration record (eMAR). Automatically connect to pharmacies in all 50 states.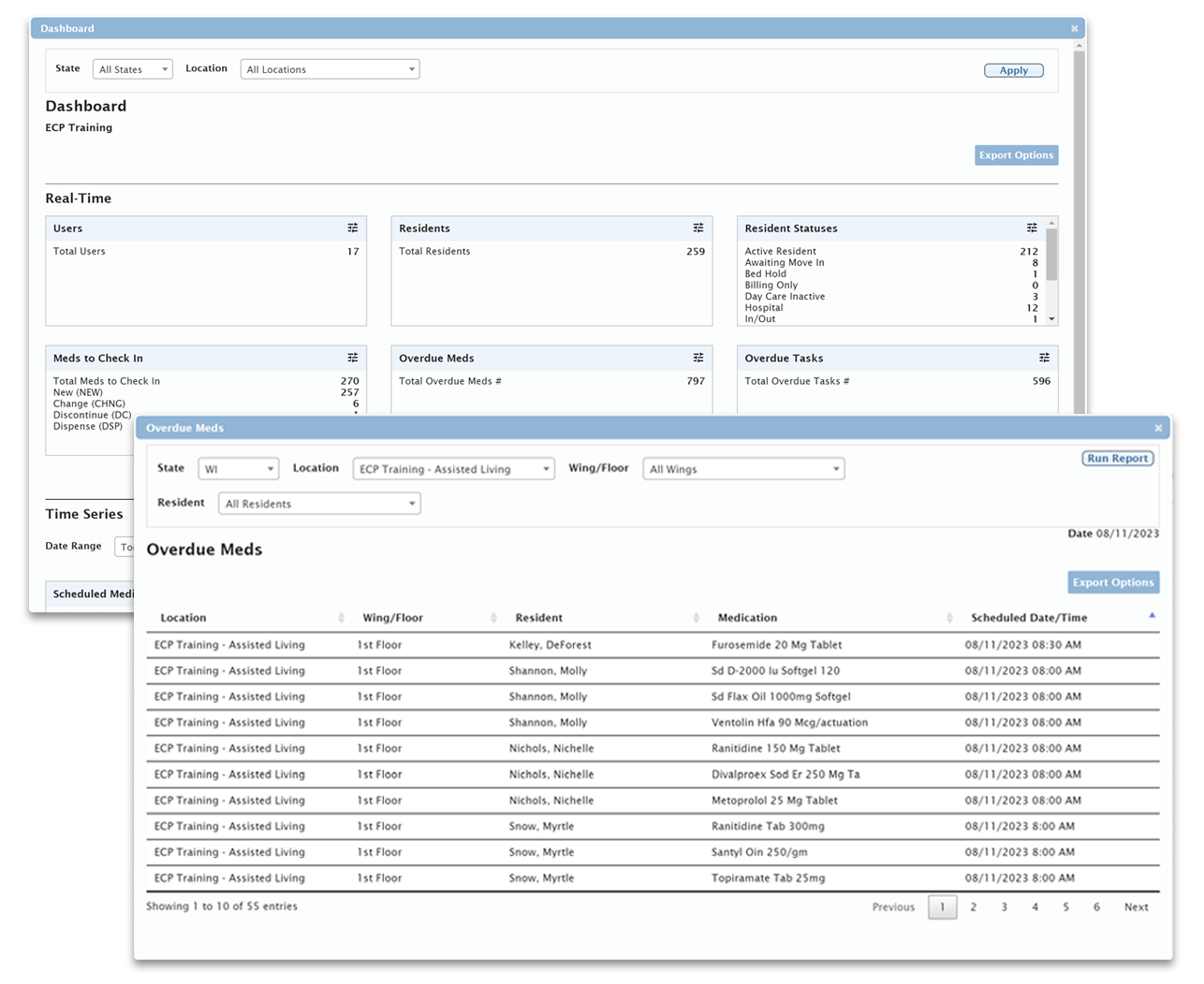 Gain insight into your communities with the Executive Dashboard
View key metrics from across ECP in a single dashboard. With visibility into real-time and time-series data, patterns and trends are more evident at a community level, state level, or portfolio-wide.
Overdue meds and tasks

Meds administered late

No pass meds

Med errors

Move-ins and discharges
Total number of Incidents




Number of Incidents with Injury or requiring Hospitalization/ER

Number of Falls Within 30 days of Move-In
Integrate with your pharmacy
ECP syncs with your pharmacy so that med orders and updates flow into the eMAR automatically. Our powerful pharmacy check-in tool lets you ensure med details are accurate, add med pass notes, set up re-order preferences, and communicate with the pharmacy. ECP is connected to 500+ LTC pharmacies in all 50 states. Using one of the few pharmacies we're not already connected to? Let us know and we'll reach out and get connected.
Improve medication oversight
Receive instant notifications if a med pass is late or missed. Medication reviews are easy with controlled substance and psychotropic med reviews, and other audit/reporting features.
Document why meds need to be destroyed along with the disposal method and review the history to justify each action.
An easy-to-use workflow that works for you
ECP's eMAR software was built to be easy-to-use in care settings with medpassers of all skill levels. Easy-to-use means charting is safer, leading to improved efficiency, happier staff, and lower staff turnover.
Charting is made easy on ECP mobile app, even if you don't always have the most reliable internet connection. You can chart on meds, cares, and more when you're offline without having to resort to inconvenient paper backups. Download the app through your device's app store.
Pass medications and chart accurately and efficiently. The fundamental medication details - the 8 Med Rights - are built into every med pass and presented in a clear, simple way.
ECP is supported by a 100% US-based, customer-first support team. Not only are they well-versed in our software, many have extensive experience in assisted living. Our support team's goal is to provide high-quality support to communities and partnered pharmacies. You can also explore our additional success resources including:
Online knowledge base
University training videos
Webinars