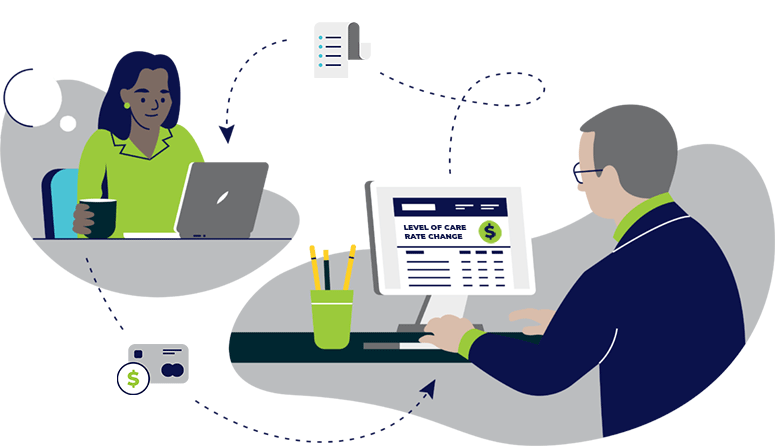 Assisted Living Billing Software
ECP Billing pulls data directly from the EHR to ensure that no revenue — even à la carte charges — slips through the cracks. Level of care tracking helps avoid service creep and customizable reports make it simple to understand when it's time to have rate conversations. Whether billing is flat rate, or determined by level of care, care time provided, or individual services, pricing can be fully customized to invoice accurately.
ECP helps you capture and update billing faster to generate more revenue
For a typical community, capturing rate changes only one month earlier
can
increase revenue by $90 per resident per month
ECP Billing provides you with everything you need for quick, precise invoicing. The automated accounts receivable tool incorporates recurring and à la carte items on invoices to ensure everything is being accounted for. Receive payments, create deposits, and run essential reports to review income and customer statements. These reports can then be used in conjunction with your existing accounting software to make certain nothing is overlooked.
Build a customized library of charges
Set it and forget it. With our customizable library in ECP EHR, you can create any line item needed. These items can then be assigned to the appropriate residents without having to recreate them individually and automatically flow into the billing solution. Utilizing these resources saves your team time and money.
Ensure accuracy in record keeping
ECP's Billing module can automatically notify your Accounts Receivable department about people moving in or out, when certain services are provided, or as care levels change for any resident. As items are reviewed and approved, a detailed line item is added on the payer's next invoice.
Print or send invoices with just a click
Whether traditional mail or email is preferred, ECP Billing allows you to seamlessly connect with each payer. Choose to print or instantly distribute invoices with a simple click of a button.
Best in class 24/7 support
ECP's support staff is the best. 100% of our support staff is based in Wisconsin, USA. Not only are they well-versed in our software, many have extensive experience in assisted living. We are ready to answer your pressing questions.
You can also explore the helpful guides and videos in our knowledge base and in ECP University to learn more at your own pace.