Top 6 Benefits of Using an eMAR for Assisted Living
What does eMAR stand for?
eMAR is an acronym for Electronic Medication Administration Record. This type of software electronically records medication administration documentation and is used in a care settings such as an assisted living facility, a senior living community, or an IDD group home.
What can an eMAR do?
An eMAR helps replace the paper documents, usually provided by a pharmacy, that include a resident's list of current medications and prescription details, such as directions, dosage, diagnosis, etc. At the time of administration, care staff can electronically document which medications a resident received versus manually recording these details via pen and paper.
Top 6 Benefits of using an eMAR for Assisted Living
1. Reduced Paper MAR

Paperwork is not only time-consuming to sort through, but there is always the risk of misplacing or even losing essential documents. With an eMAR, this reduces the need for binders of paper MARs. At a click of a button, you can electronically access any resident's MAR to review and evaluate their medication records.

2. Improved Oversight
Medication management involves a whole team - physicians, pharmacists, residents, family members, and caregivers. An eMAR centralizes all medication information to ensure accuracy and keep all parties up to date. It can also efficiently generate audits and accurate reports to review orders such as controlled substances and psychotropics. Additionally, an eMAR that includes a mobile app can provide even more community oversight. Check in with your team even when you are away from the office.
3. Increased Efficiency

Manual charting is laborious and increases room for error. eMAR software provides a clear, simple layout of medications and essential details for proper administration. Many eMARs include instant notifications to remind staff of the upcoming med pass schedule and alerts for missed items, resulting in increased overall workflow efficiency. Incorporating a user-friendly eMAR will reduce the need for redundant data entry, automate current processes, simplify existing procedures, and keep your team informed with recent updates.
4. Reduced Medication Errors
With the automation of instant notifications and alerts, communities can experience a significant decrease in medication errors. In addition, some eMARs also incorporate required prompts, such as vitals, compliance-related questions, or even the eight med rights of administration at the time of administration to ensure all medications are handled properly.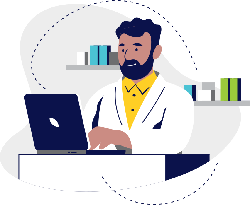 5.

Integration with a

Pharmacy
Having a direct connection with your pharmacy improves communication and help increase the accuracy of each resident's medication list. As a pharmacy sends medication orders directly to the eMAR software, it ensures all MARs are precise and up to date.

6. Maintained Compliance
Every state and license type is different, and on top of that, each resident has their own specific needs. Many vendors incorporate assisted living and long-term care regulations into their software, some of which even include state-specific templates. Rest easy knowing all requirements are met, making audits and surveyor visits a breeze.
ECP eMAR
ECP is the leading web-based clinical, business, and compliance software provider to over 6,500 assisted living communities and other long-term care providers, plus over 500 long-term care pharmacy partners and counting. ECP's core clinical products include an eMAR and electronic health records (EHR) used in assisted living communities, group homes, and intellectually and developmentally disabled care settings across the country and globally.
ECP's eMAR helps replace the need for outdated paper systems, ultimately improving medication oversight and overall efficiency. With multiple badges from G2, Capterra, and GetApp, ECP is recognized to be the easiest to use in care settings with med passers of all skill levels. Users can significantly reduce medication errors with built-in safeguards, including the fundamental medication details - the 8 Med Rights - built into every med pass and presented in a clear, simple way.
With templates tailored to each state and unique license type, you'll have confidence knowing your records meet state compliance regulations. ECP provides standardized state-required forms that print just how they need to be submitted. Alerts can also be set to remind you when the next assessment or report is due per the regulations.
Gain community oversight even when you are out of the office with ECP's mobile app. Charting is made easy on ECP mobile app, even if you don't always have the most reliable internet connection. Chart on meds, cares, and more when you're offline without resorting to inconvenient paper backups.
Click here to learn more about ECP's eMAR or request a personalized demonstration here.