ECP Awarded G2 High Performer Badge and Leader Badge
Authentic reviews place ECP among the top Assisted Living software platforms.
East Troy, WI., December 2021 – ECP announces that G2, the world's largest software and services review platform, recognized ECP with the G2 High Performer Badge and Leader Badge. These awards indicate that ECP earned high customer satisfaction scores in the assisted living software category based on the feedback of actual users. These badges are earned through authentic peer reviews, so current and potential customers know they can put their trust in ECP.
"We are thrilled and honored to be recognized by dozens of real users of our platform as a leading provider of assisted living software. We are incredibly grateful for all feedback that our users provide as we continue to enhance our platform and add new functionality to improve clinical, business, operational, and compliance outcomes for our customers. Assisted living residents deserve world-class care and we are committed to offering software to help communities provide it." said Adam Aisen, CEO.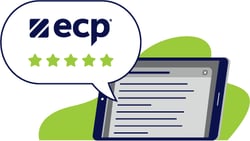 "User friendly, quick charting, easy communication between staff, helpful customer service! I love how easy it is to pass meds, file incident reports, and add in appointment reminders for my staff. very very pleased." said Sierra S., Coordinator at Clarity Care
"ECP is easy to use, basically point and click, clearly labeled as to what options are. There is a perfect amount of help features, including customer service via web or phone. I can store all my information within ECP that I need. I can also access all of the homes within our company from one location." said Damon F., Executive Director at Lori Knapp Co.
About ECP
About G2
G2
is one of the world's largest software and services review platforms where business owners can find and compare an array of software and technology solutions available on the marketplace. The site scores product vendors and the software or services they offer based on unfiltered, unbiased reviews from actual users to help guide sound purchasing decisions. Potential customers receive trustworthy insights into what it's like to work with a specific company and use its products.